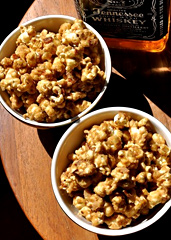 It's Friday. You're thinking movie.
Which makes you think of popcorn. And what popcorn lacks. Namely: whiskey. Also: bacon.
Until now, that is...
Say hello to
Jack Crackin'
Caramel Corn
, a boozy adult treat that takes some classic caramel popcorn and adds glorious, glorious whiskey and bacon to it, now available.
Ready to be shipped to your door, this feels like a no-brainer to anyone who a) loves popcorn, b) loves whiskey and c) loves bacon, and would like all of the above wrapped up in one five-ounce bag.
If you're worried about the craftsmanship, don't: each batch is meticulously handmade by taking some brown sugar caramel, mixing in real Jack Daniel's Tennessee whiskey, drizzling that over fresh popcorn and throwing in flecks of bacon and Spanish nuts.
So whether you've got a solid Netflix queue lined up or you're planning to see how Leo and Ellen Page shake out in
Inception
, these will serve your bacon and whiskey needs (at least until you can get to a bar/diner).
Next up: vodka-soaked Junior Mints.