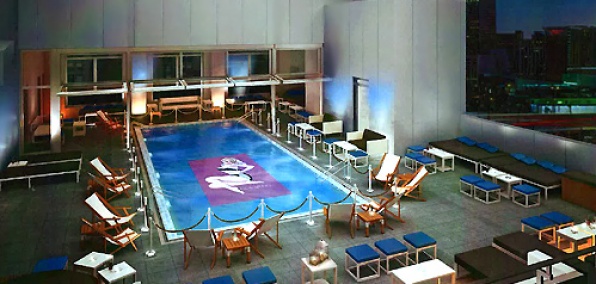 We sent you out there.
Into the heat. Up on top of the city's
largest
,
tallest
 and most
waterbedded
 rooftops.
And we normally live with no regrets.
But today we now realize that we left you baking in the sun, yearning for the sweet release of a glimmering, pristine body of water.
Well, today is our mea culpa...
Introducing the pool deck at the brand-new
Gansevoort Park
Avenue
Hotel
, home to one of the largest rooftop swimming pools in the city, accepting room reservations now and opening soon.
Let's be clear: this is not a tiny afterthought of a swimming pool: it's a full 40-by-16 feet of glory, perched upon the 19th floor and with the added bonus of 25% of the pool being indoors—in case rain like today's attempts to spoil your synchronized swimming lesson.
If you've been looking for an excuse to bunker in for a lazy summer vacation in your own city, this may be a good start: find your way into a room and you'll have your run of the pool, daybed privileges and three outdoor levels of bars and balconies to romp around, consume Southsides and let the suggestive photography on the roof inspire your poolside companions.
And should you feel the need to strike out in the city, you'll be well positioned among the delights of NoMad, the neighborhood of Ace Hotel and Shake Shack notoriety.
A little notoriety always makes your backstroke look better.