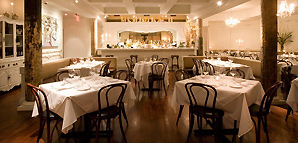 The MPD has never been mistaken for a quiet neighborhood replete with subtle, cozy restaurants.
And it never will. But with the arrival of French upscale bistro
Bagatelle
, soft open now, you'll find a new kind of energy and a nice complement to Pastis.
Bustling but not too loud, Bagatelle sits comfortably between fine dining and classic bistro fare. Owned by the team behind neighboring
Kiss & Fly
(the only connection between the two establishments is the use of the structural wood columns as a design element), there are separate entrances, separate crowds and very different décors. Bagatelle is dominated by candles and white—white tablecloths and walls, white crown molding, a white back bar with cathedral candles on a high shelf above—with some modern art and crystal mini-chandeliers for punch.
If you're heading west with a date, it's a good stopover for drinks—try
Le Blues de Manhattan
, Makers Mark with muddled blueberries and blackberries, Chambord and sweet vermouth. For dinner, the place is best suited for groups. Shared entrees like the
Côte de Boeuf
and the
Poulet Entier Rôti et Truffé
—paraded ceremoniously to the table before being divvied up and presented on oversized porcelain platters—are standouts on the traditional menu. The
Ravioli de Poireaux Truffé
(with leek jus poured tableside) and the
Ratatouille
will remind you of those idyllic summers you spent at your grand-mère's in the French countryside.
That is, until you look outside.