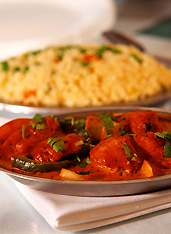 It happens every time they're in town.
You, the Dalai Lama and Richard Gere spend an amazing evening holed up in your favorite booth at Gibsons, discussing transcendentalism, reincarnation, spiritual energy—that kind of stuff. (Also: Cindy Crawford.)
Then the bill comes. Heated words fly about karma, giving being better than receiving and who had that porterhouse. While those two go at it, you sigh and pick up the tab (again).
Well, this Sunday the universe picks up
your
tab. Introducing the
Karma Kitchen
at Klay Oven
, a new and completely free monthly feast of Indian food in River North. All it costs is your immortal soul. Or, you know, whatever you can spare.
Here's how it works: It's late afternoon. You're hungry for a little heat, so you decide to go Indian. You'll find a menu of chewy naan, creamy spinach, spicy veggies and other subcontinental delicacies (i.e., no porterhouses). Yet when the bill arrives, it reads $0.00. So just get up and go. Oh, wait... just one thing.
This whole evening is part of a pay-it-forward experiment that originated in Berkeley (as such things are wont to do). While you technically don't have to leave a dime (really), you can just pay for what you think the meal was worth. While all the money goes to charity, the next table will be told that you paid for their meal.
We just hope Gere didn't follow you.