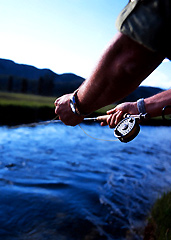 You've
hunted
.
You've
been hunted
(to your credit, she did look like Demi).
Now it's time to turn from field sport to more aquatic pursuits...
Welcome
Fly-Fishing School at the Resort at Squaw Creek
, an intense rod-and-reel session that teaches you the ins and outs of the fine art of fly-fishing, taking reservations now.
Think of this as your opportunity to channel a pre-Angelina,
River Runs Through It
-era Brad Pitt (dating rule #54: don't underestimate the lure of waders). Which basically means you'll be able to get your hands on some fish—maybe even a trophy-size 19-incher—and then, in one swoop of mercy, let it go (sometimes it is about the chase).
At the crack of dawn, you'll meet up with owner/master angler Matt, who'll either lead you out to the Resort's rainbow trout-stocked ponds for a group lesson or transport you to an off-the-beaten-path private river for your own guided tour.
Since we expect you'll be up for the latter option, with 360-degree views of mountains and Matt's undivided expertise, you'll don the company-issued wading boots and step into the 50-degree snowmelt-fed river in search of trout. Then he'll walk you through the lasso-like rhythms of fly-casting, so it'll be only a matter of time before the fish start locking onto your single, barbless hook.
Be sure to let them off easy.