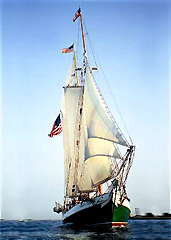 When you think of fun summertime activities, you think of three things, usually: Drinking outdoors. Cheering for the Sox. And, of course, staying overnight on a clipper ship from the 1800s.
Or at least a replica of one...
So today we bring you word of an exciting opportunity called
Liberty Clipper Overnight Cabins
, your new eclectic hotel experience on the water, now accepting reservations.
You've probably already met the
Liberty Clipper
, a handsome, fully operational, 125-foot replica of an 1800s clipper ship, named after the one John Hancock steered (or at least signed) during the Revolutionary War. The
Liberty
has been doing cruises and charters around Beantown since the '90s, but this is your first chance to spend an entire evening with the vessel. (In highly technical seafaring terminology, this is what's called "going all the way.")
You'll want one of the five double cabins, built into the hull of the ship and decked out with a bed for two and... not much else. (Hey, it's a boat.) After checking in and getting a feel for what the cabin can handle, you can head on deck for a two-hour sunset cruise—or grab a drink at the full bar located at the back of the ship (we recommend something with the word
salty
in it).
You can also use the
Liberty
as a late-night crash pad, hitting a few downtown bars and returning to the ship to sleep it off in your cabin...
We hear this is how Hancock liked to play it.