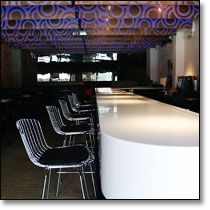 Finishing off a $250 evening in the Meatpacking District with a $2 slice is a lot like grinding on the dance floor all night with Jessica Alba but then taking home famed UPI White House Correspondent
Helen Thomas
. Both will get the job done, but it sure as hell ain't pretty.
Sensing this need among New York's elite clubbers for late-night munchies worthy of their Cristal-soaked palates, restaurateurs Roy Liebenthal and Sasha Tcherevkoff have made refined post-party vittles their mission. First came the uber-hip Pop Burger, and now, just two years and two doors down, they've opened
Pizza Bar
.
With a psychedelic ceiling, black lights and bumper car-inspired booths, Pizza Bar feels like a roller skating rink gone awry—oddly comforting at the end of a long night. But with drinks like the
Pink Panty Pull Down
(Absolut vanilla, lime, grenadine) and
lobster topped pizzas
, this isn't your usual roller derby fare. Homemade meatballs help hold off the morning hang-over, and the mascarpone and mushroom pizza topped with truffle oil will impress your date with your refined taste even at 4 a.m. And at $14 a drink and $12 per personal pie, these snacks are worthy of the velvet rope.