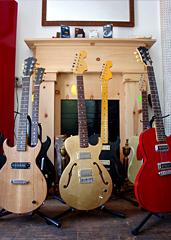 For those about to rock, we salute you.
Also, we want to help you out with that. So allow us to point you toward a killer new place to pick up a custom guitar—and maybe catch a secret concert out back. It's called
Old Style Guitar Shop
, and it's now open.
Basically, this is the covert little place to find a handcrafted number that already looks like it's been beat up. Proprietor/luthier Reuben Cox isn't afraid to source random furniture off the street and use the wood, which equates to instant indie cred. Just ask Sufjan Stevens, the National and Arcade Fire, who'll be playing his guitars next time they're on stage.
But if your band's on hiatus at the moment, you'll probably still want to get on the shop's mailing list to hear about their secret shows. Not too long ago, the National stopped into the alley out back (between sold-out Wiltern gigs) to grab the instruments Cox had lying around and jam for about 50 people, max. And last week, Cox roasted a leg of lamb and hauled out a piano for USC grad Matthew Oden to play all 30 Goldberg Variations.
It was in the key of rock.