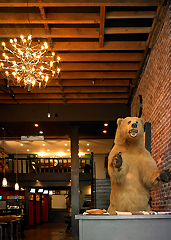 Congratulations. You made it to Friday.
In fact, we think you deserve a little R&R. Like at a giant bar. With an in-house tailor. And, why not, some poker tables and a giant taxidermied bear.
Welcome to
Wingtip
, a tri-level hideout of a private club in the heart of FiDi, accepting applications now.
Think of it as a cross between an uptown bar, your office, and a country club—only instead of booze, work and tennis, you'll find booze, play and… Wii tennis.
Start at the old MR. the Barbershop. There, you'll rap out the secret knock (or, soon enough, just put your finger to a biometric reader) and enter.
Skip past the big, taxidermied Alaskan Kodiak bear in the foyer and head to the bar. In the mornings, you'll enjoy a quick cappuccino and watch the World Cup semifinals on one of the nine hi-def televisions. Later, head to the top floor for custom suits, shirts, shoes and even furniture from the guys behind
On the Fly
.
But back to that bar. It's got about a dozen hard-to-find beers (in bottles and on tap) and around 30 wines picked by the experts from Bin 38 and
Republic
. But if you prefer something a little stiffer, you can drop off your personal stash in one of the joint's liquor lockers.
You wouldn't want that bear stealing your booze.