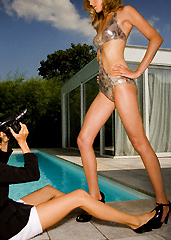 We hate to be the bearers of bad news, but your lunch break today was lacking inspiration.
Now, not that this is anything but a suggestion, but here's how we would have played it:
Step away from desk. Hail taxi. Head toward Hotel Gansevoort. Acquire pool day pass. Dive in. And when you surface, witness an unusual preponderance of models frolicking. For every Friday this summer, this is their home. And you are invited.
Welcome to the newest incarnation of the chivalrous den that is
The Model Lounge
, open this Friday and every Friday through August.
When
we first told you
about this most exclusive of hideaways, it was an inaccessible cocoon of posturing—a basement in SoHo where professional models could retreat for private air kissing, low-fat gum chewing and not eating.  
But things have gotten a little more... wet. (Although nothing about the air kissing has changed.) The Lounge is now set up in a compound that includes a suite stacked with gratis bikinis and a private roof deck staffed by a masseuse. So Fridays usually include an intense session of bikini-trying-on, a spot of inspired sunbathing, a rubdown and, finally, it's time for a dip in the pool.
And here's where you come in. There is only one pool at the Hotel Gansevoort, and that means the models have to share.
Make sure your Latvian phrase book is waterproof.