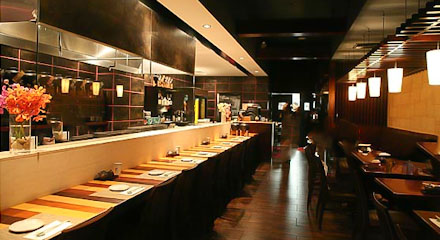 We know you're getting ready to embark on your holiday sojourn, but we've got a gift for you that will undoubtedly top anything sitting under your tree. It's a little early, but you can put it in your "do not open until Christmas" pile.
And when it's from the folks behind Yakitori Totto, you know it's worth the wait. Introducing
Soba Totto
, opening Christmas Day.
In well informed circles, Yakitori Totto is the ultimate in authentic Japanese grilling in New York, the epic wait for a table forgotten as soon as the food arrives. With Soba Totto, the yakitori geniuses have expanded their meticulous dedication to include the art of soba: Thin buckwheat noodles served in hot broth, with seaweed or a dozen other ways. In this weather, it might be just what you need. Slide back the shoji in front and feast your eyes on a Taisho-era Japanese village, complete with wooden screens, woven rice paper on the walls and—the center of any good village—a healthy sake and shochu selection.
If you're feeling casual, take a seat at the Momofuku-style bar, or try to snag one of the more decorated rooms scattered throughout the place, where you can enjoy a little quiet along with architectural touches like hay-stucco and buckwheat shell walls keying you in on a little bit of Japanese simplicity. After all, it goes with the food.
And if you want to get even farther inside, ask around about the secret lounge, tucked off to the side with a
Sakagura
-style entrance from the building next door (coincidentally, just two flights of stairs away from Sakagura).
We guess that means you've been good this year.