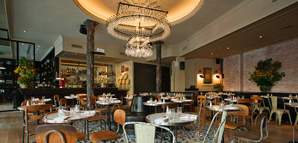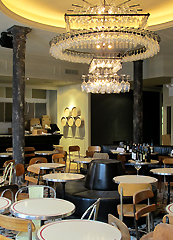 Every once in awhile, something comes along that just makes sense.
For instance: start with a five-story chateau. Add a yachtload of champagne. Insert supermodels. Light the roof on fire. And set it all up in nowhere else but...the Meatpacking District.
Introducing
Villa Pacri
, the MPD's latest self-contained metropolis of excess, from the Euro hedonists behind PaCri St. Barth and
Bagatelle
.


You'll get in on the ground floor (not your usual point of entry, we know) when the open-air rustic Italian café, dubbed La Gazzetta, opens next Thursday. Here, amongst formica two-tops, wooden chairs and a colorfully tiled floor, you'll take a panini and carafe of red onto the sidewalk patio as you consider the future: La Gazzetta is only the beginning.

In the coming weeks, Villa Pacri will take it to the next level. And by next level, we actually mean the basement, with a DJ lounge, fireplace, low-slung furniture, and plenty of of banquette-friendly Dolce & Gabbana minions.

Then, later this year, you can expect a white-tableclothed restaurant on the second floor, a private banquet hall on the third and, crowning the whole creation, a rooftop lounge and garden for alfresco drinking and dining.

Which will only occasionally be on fire.