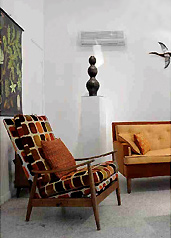 We did it. We beat Algeria.
So today you should celebrate this great victory for our country.
But tomorrow you'll want to start planning for the party you'll be throwing for the USA's next nail-biting match. (And eventually the final on July 11.)
Allow us, then, to suggest a place to add a bit of intrigue to your pad. Also: some chairs.
Introducing
Tricycle
, your new one-stop vintage furniture and knickknack shop, now open in Wynwood.
Started by a couple of design gurus who like to scour flea markets and estate sales, Tricycle has everything you need to give your home a little bit of "wow, that's interesting" sophistication: retro wine decanters, 1940s loveseats, Danish glassware and dragon sculptures. (It feels a little bit like Pete and Trudy Campbell's Upper East Side apartment on
Mad Men
. Only without the tension over Trudy's barrenness.)
And because you'll want to be sipping huge bowls of beer as you cheer on Landon Donovan and the boys, they've also got plenty of old-school snifters and rocks glasses.
This is no time for 2004-era Miami Dolphins cups.