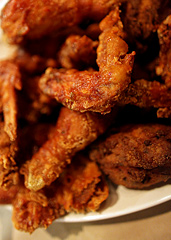 Hey, welcome to the first day of summer.
Things are about to get a little crazy. Like, fried-chicken-and-a-keg-in-a-fancy-little-restaurant crazy.
Yes, tomorrow inaugurates
Tuesday Nights at Eva
, and if you're a fan of unlimited deliciousness, you'll want to reserve your seat pretty much right now.
Best known as
a sliver of a spot
for foie gras and duck breast, Eva is mixing up the formula tomorrow (and that's an understatement). At 6pm, a keg of Eureka North County Pilsner will be carted in near the bar. Then, some red plastic cups will appear. Then, everyone will drink like they're college sophomores again.
Only instead of dining-hall fare, there'll be buckets of chef/owner Mark Gold's famed fried chicken, soaked in buttermilk and Tabasco for 24 hours. (Think extremely crispy skin, with not a lot of grease.) For $25, you can consume all the beer and fried chicken you can handle, and for an extra $5, you can throw in sides like creamed corn, creamed spinach and potato salad. (Mmm... creamed corn.)
If it goes well—and really, how could it not—this will kick off a new Tuesday night tradition at the tiny restaurant.
Let's all do our part.