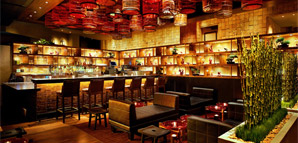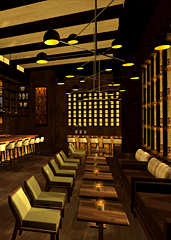 Ah, the Golden Age of Vegas.
We're thinking limos waiting around the block. Starlets downing martinis in a corner booth. A pack of paparazzi waiting discreetly outside.
An era of glamorous debauchery. You know, 2007.
Good news: it's coming back.
Introducing the second coming of
Social House
, the notoriously celeb-happy sushi joint, arriving at Crystals as of June 28.
It's the same low-lit sushi den you remember, packed with sake and perhaps the occasional Johansson. They've kept the faded geisha pictures on the walls, the bird's nest lamps... even the Tibetan prayer wheels out front, which you've long credited for your success at the craps table. But now you'll enjoy it while sitting on the open-air terrace, where you can survey the rest of Crystals before biting into the dessert brilliance that brought you there all those years ago:
Tempura "Corn Pop" Ice Cream
. (You've always wanted to mix breakfast, dessert and tempura.)
The all-night parties are a thing of the past, which means two things: 1) that night you had with Ms. Lohan really was one-of-a-kind, and 2) you'll be fitting all that revelry in before 2am... when you'll head across the lobby to Eve to finish off the night.
Hopefully they let you hang on to your chopsticks.