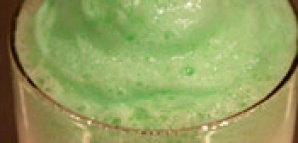 Even in a city with a virtually limitless array of dining options, some dishes are way too good to miss—they demand immediate consumption. Every month, our feature Served Up gives you the lowdown on a standout dish in the city. Digin.
In terms of drinking, some classics should be left alone.
But since we've never let an intriguing combination pass us by—
foie gras doughnuts
anyone?—when we heard
Tailor's
Eben Freeman was experimenting with absinthe, we thought we might have a gem on our hands (an emerald as it were).
While absinthe on the menu isn't news these days, you haven't exactly been floored—literally or figuratively—by the new crop of green cocktails popping up on some of the more adventurous drink menus around town. Which is why we bring you Tailor's new off-the-menu
Mentholated Fizz
, a quixotic and intriguingly palatable take on the fabled old-world spirit.
A spinoff of the classic gin fizz, this concoction succeeds in taking the sting out of the anise without killing its character. The base is equal parts gin, mentholated absinthe (prepared in Tailor's kitchen/lab) and fresh squeezed O.J.—but the fun starts with pine and rosemary-infused simple syrup and the pandan-flavored frothy egg-white head.
After admiring the multi-layered tipple, dive nose first into the nutty/frothy green egg foam and hang in there for a second to ride the mint wave straight through to the licorice-sweet finish.
Which should be a perfect start to your evening.