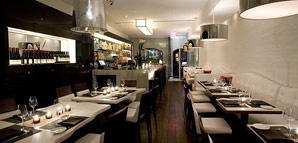 As wintry weather digs in, we're here to remind you that certain restaurants make you forget there's such a thing as wintry weather.

Bar Blanc, soft open and taking reservations now, is just such a place.

Created by a team of Bouley vets, it's an elegant, upscale and exceedingly comfortable neighborhood restaurant. Walking through the black double doors, you'll notice that everything is...blanc: There are undulating white plaster walls, winter-white tables/chairs and a warm white marble bar quarried here in the good old U.S. of A. Despite the proclivity for pallor, the room has a surprising warmth (maybe it's the artisan lights and the tree bark cathedral candles) that will keep you lingering at your table long after you've finished your meal (with help, of course, from the house-made spiced rum).

Nestle your group at one of the larger tables up front—where the atmosphere is livelier—and settle in for Italian and Japanese influenced cuisine (prepared, naturally, with French technique). Our favorites are heartier selections like the Braised Lamb Shoulder Lasagna and the roast baby pig with cinnamon, star anise and orange. And if you're looking for a more intimate experience, bypass the bar and front tables and head to the quieter back room.

Where things are fortunately no less comfortable.