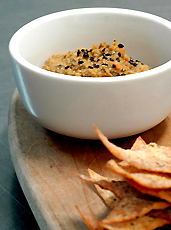 The Los Angeles Film Festival kicks off this weekend at LA Live, and you know what that means...
Korean fried chicken. Lots of Korean fried chicken.
Yes, we're talking about another food truck in our city. But this one is serving up modern Korean wonders, it's launching at the festival, and it's called...
Ahn-Joo
.
By now, you know how this works—
salivate over a truck's menu
, follow it on Twitter to figure out when and where you can partake, and exploit it for all its four-wheeled deliciousness. But in this case, the truck will be parked on LA Live's event deck for its inaugural week, so it's merging the vagrant appeal of a truck with the stationary ease of an old-fashioned restaurant.
Then, after the 26th, it will take to the streets, bringing
Korean Fried Chicken with Garlic Glaze and Pickled Daikon
, along with
Korean Nachos
(fried-rice cakes, soy-braised pork and kimchee salsa) and
Mama Lee's Meatloaf
, wherever it lands.
You might recognize Chef Debbie Lee (aka the meatloaf's mama) from one of those foodie reality shows—or from her oft-praised guest stint at Breadbar earlier this year.
Consider this a lock for Best Supporting Food Truck.