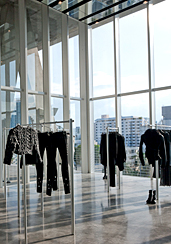 You don't ask much from your clothing stores. Just that they have awesome clothes, sexy salespeople and plenty of parking.
And if that means they're actually located
in
a parking garage, all the better...
Welcome to
Alchemist
, your new home for rock-star-worthy threads in a South Beach parking garage, open now.
Think of this as half museum, half Bal Harbour shop. (In a parking garage.) To reach this forward-thinking storefront, you'll drive over to the concrete car park at the western end of Lincoln Road. From there, you can either gun it up to the fifth floor (yes, it's right there on parking Level 5) or save a little gas, park on Level 1 and take the elevator up to the sun-filled glass cube.
There, underneath a curious ceiling that has panels that move, you'll find the type of edgy, slightly apocalyptic clothing that's perfect for hot summer nights at the rock hall: think paper-thin tees in dark gray, and lightweight denim in shades of charcoal. (Basically, anything Christian Bale wore in
Terminator: Salvation
.)
And because this is a clothing store in a futuristic parking structure, they've also got crazier stuff from Rick Owens, the designer responsible for those asymmetrical leather jackets you've seen on Kanye and John Mayer.
In other words, clothing for regular guys.