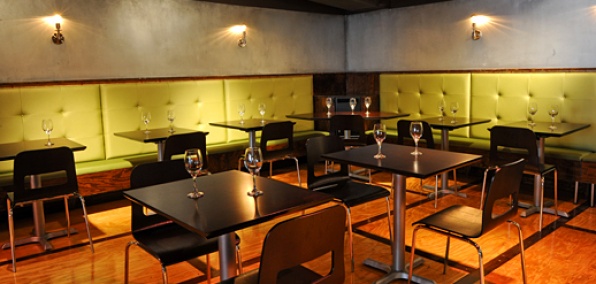 Choice.
The great boon of free will, but an annoying aspect of nightlife when you can't make up your mind between dinner, drinks or carousing.
You need a place for all of them. With video games.
Introducing
Think Tank
, the new multifaceted haunt of your indecisive nightlife dreams, officially opening next week in Kendall Square.
Think of it as a Choose Your Own Adventure book, in restaurant form. Should you be feeling the powerful urge for
strong cocktails
, you and your pals can sidle up to the bar for a few
Thai Tais
(Mekong Thai rum, dark rum, amaretto). Or just grab some space amongst the throw pillows, flat-screens and funky orange decor of the Barbarella lounge and share a 20-ounce rum-loaded
Zombie Para Dos
with someone (we suggest you clear it with them first).
But if it's more of a dinner-and-breakdancing kind of evening (again), you'll want to start in the dining area for
Steak Frites or Peking Duck Breast
, before they open up the space for some lively rump-shaking to some of the best female DJs in town.
And when you sense the time is right for a bit of adolescent relief, slip behind the curtain near the bar and hit up the two arcade games (
Golden Tee
and a fighting game) over a couple of $4 tallboys of Miller High Life.
Golden Tee
is the champagne of arcade games.