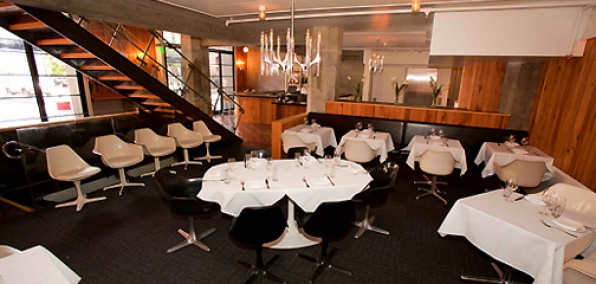 The Sixties...

An era that, when it comes to iconic times worth reliving, is perhaps second to Prohibition—and edges out the '80s by a hair.

And by reliving, we mean via cocktails, free love and... lobster.

Welcome Thermidor, a 1960s-era inspired restaurant and bar that's reviving the lost art of mid-20th century dining and cocktailing, open now in Mint Plaza.

Since it's brought to you by the same guys who own Spork, Thermidor—named after the famed crustacean dish—will sort of seem like the Mission eatery's granddad: it's got a bigger, tonier, white-tableclothed feel that seems lifted off the set of Mad Men—complete with reclaimed wood-paneled walls from an Oakland church, chrome chandeliers and Jetsons-esque fiberglass tulip chairs.

The end effect is the sort of retro watering hole that you'll want to weave into your rotation of hangouts for high-caliber post-work cocktails (think: Harvey Wallbangers). And if those cocktails happen to turn into dinner, there's the eponymous Lobster Thermidor—a baked half-lobster drenched with brandy béchamel sauce—as well as other classics like Filet Mignon and, soon, Baked Alaska.

And since they're keeping things a little fast and loose, last call depends on the crowd—making it up to you to stay as late as possible.

And by late, we mean tomorrow.