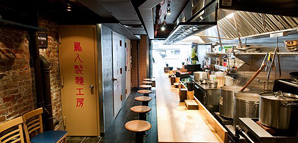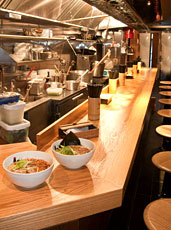 Tokyo.
A city of 13 million, where beer is sold in vending machines and young women spend their weekends dressing up like comic book characters.
A city, also, with the largest collection of underground ramen shops in the known universe.
The very best spots have only a few seats, forgo signage and are situated down rickety stairs, within a warren of nameless back alleys. Yet the harmony of soup and noodles achieves a perfection that can reduce a sumo wrestler to tears.
Finally, it's time for our sumo wrestlers to cry.
Opening tonight for dinner in Hell's Kitchen, meet the tiny
Totto Ramen
, a minimalist shrine to noodles from the people who brought you Yakitori Totto, with the same subterranean confines you'd expect to find in the back alleys of Tokyo.
There are no koi ponds or waitresses dressed like geisha: there's seating for 12 at the counter, and not much else. You're there to focus on the homemade noodles, broth, spicy red rayu sauce and a few random vegetables thrown in for good measure.
And just in case you were getting a little concerned about your daily meat requirement, the bowl is topped with two slices of fatty pork cheek, seared before your eyes by the counterman with a flamethrower.
Which is to say, don't forget to leave a tip.