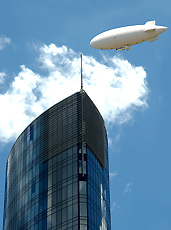 Today, you might be heading out of Dodge.
And you've got endless modes of transportation at your fingertips—cars, motorcycle sidecars, your private plane, hot-air balloons, human catapults...
But for your next trip, we'd like to suggest something that might just seem a little crazy: a giant helium-fueled blimp—with you at the controls.
Introducing
Airship Ventures Pilot Experience
, a two-day flight school that will put you behind the stick of a Zeppelin (the world's largest airship), enrolling future pilots now.
This is your chance to operate one of the world's three Zeppelins (although we always liked
Zeppelin IV
), most famously used as bombers during WWI. At 246 feet long, it's bigger than a 747, but it handles somewhere between a helicopter, a cruise liner and a biplane (you should be feeling more comfortable already).
After a half day of ground training (and handling previous pittances like getting your pilot's license), you'll be ready to take over the controls at 1,000-feet elevation. Using the buoyancy from the helium and the three propellers, you'll run through drills like climbing and descending, leveling off, turns and hovering.
The airship has the capacity to fly 560 miles (think: from San Francisco to San Diego) and can travel at speeds up to 75 mph. But on average, you'll top out at 35 mph and will probably stay close to Moffett Field, unless air traffic control gives an all-clear to venture up to Treasure Island and the Golden Gate Bridge.
Buzzing the tower won't help...