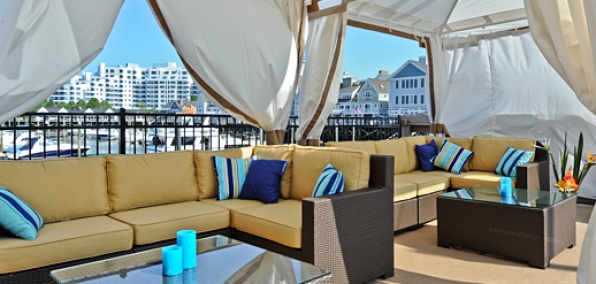 Bad news: the sun appears to have left us.
Good news: it's coming back in full force tomorrow, and all through the holiday weekend.
Let's party.
Introducing
The Ocean Club at Marina Bay
, the new outdoor nightclub and mega-funhouse taking over the old Marina Bay Beach Club in Quincy, soft-opening tonight.
Consider this your new go-to when you want to throw down amidst wild DJs, live acts, four full bars and upwards of 1,600 people... or just want a taste of South Beach by way of the South Shore (hey, they both have palm trees).
The aquatic grandeur comes to you from the minds behind multiple downtown and North End spots (Splash, Strega, Umbria Prime), who've spruced up the place with 17 new couch-and-plasma-TV-equipped cabanas. So after touching down, you'll want to order up
a round of Painkillers
(Sailor Jerry rum, pineapple juice, OJ, Coco Lopez) and some
Sautéed Mussels
(and maybe some
Summer Spring Rolls
, for good measure) and just generally kick back in bayside glory.
If you're feeling sporty, the beach volleyball courts are still at your disposal. And they've also added a fleet of 2010 Suburbans that you can hire to cart you and your crew back to Boston proper like a conquering Roman army.
Or like a bunch of friends who have been drinking all day in the sun.