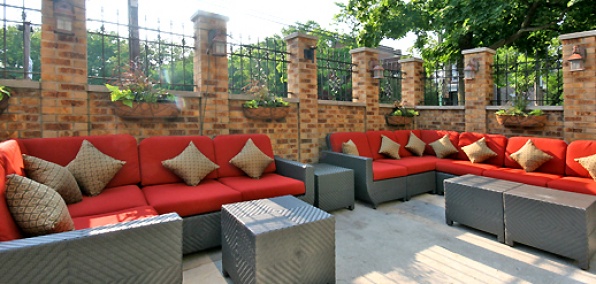 This weekend is the official unofficial start of summer.

Today, however, is the unofficial official unofficial start of summer. While you get your head around that, let's find you a good patio to start celebrating.

Allow us to suggest Pour Drinks & Eats, a cozy Roscoe Village corner tavern with all the cold beer, strawberry-basil vodka lemonades and Berry Capiroskas you need to make it to Memorial Day—plus a secluded outdoor lounge for you to sip them on.

This will be your new summer lair, a getaway from your getaways, a place where you'll come when all the heat and the crowds and the street fairs have become one sweaty summer swirl and the only thing you need is to escape somewhere low-key and friendly. And if the hot dogs come stuffed with cheese, then so be it.

The inside feels handsome enough (in that exposed brick sort of way), but make a beeline for the back door. This semi-shaded, television-equipped sanctuary is for those muggy summer afternoons of Cubs-watching, when poblano-topped burgers, fish tacos and Dogs in a Poncho—Chihuahua-cheese-stuffed hot dogs wrapped in a crispy tortilla and served with habanero ketchup—somehow call to you.

At night, get cozy on the sofas with a Hot and Bothered, a strawberry, absinthe, ginger beer and chipotle-vodka mélange.

Which just so happens to be your favorite kind of mélange.