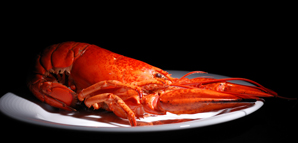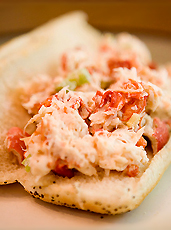 The heat is on.
Only took until the end of May to get some mercury rising in this town.
But we're not complaining. We're celebrating. Because with the heat comes the desire—nay, the need—to lighten things up a bit.
Let's start with something simple: your lunch.
Arriving Saturday among the towering precincts of the FiDi is your new lunchtime staple:
Ed's Lobster Bar Cart
, a tricked-out lobster roll cart from the Maine-loving folks at
Ed's Lobster Bar
.
This is the kind of mobile lunchtime ingenuity that productive, swashbuckling afternoons are built on. As you descend from the glass and steel heights and step out into the sun, you'll find Ed ready to serve your new favorite power lunch via four street carts roped together around a central grill to form a lobster cart armada.
As for the goods, the lobster is flown in daily from Maine or Canada (but let's forget about that Canada part), dressed with a little mayo, some lemon juice and celery, and heaped onto a toasted, buttery bun. And they're tossing in some soft-shell crab and grilled shrimp po-boys, if you need a day off from the lobster game.
But be warned: you'll need to get out there on the early side. Ed's cart is sure to sell out of lobster long before its official 8pm closing. So make sure you head down while the sun is still high in the sky, and the smell of commerce is still in the air.
Because the wheels of commerce cannot run on burger alone.