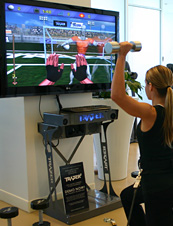 Working out is good for you, but sometimes it's incredibly tedious, like taxes or dating.
If only it could feel more like a video game, from the year 2030...
Say hello to the
Trazer 2
, the
Avatar
of cardio workouts, now available for the first time in Miami at the Fontainebleau gym.
The workout begins innocently enough: a personal trainer feeds your measurables into the computer (weight, height, heart rate) and then chooses which "game" you'll play. In order for the machine to track all your info, you'll wear a belt with a digital beacon (think He-Man) that's tethered to the floor with four rubber cables that add resistance.
You'll stare up at a 55-inch HD flat-screen and, depending on your goals (improved agility, speed, strength, etc.), play anything from one-on-one soccer to catching basketballs as they're dropped from the ceiling... to following a dot around a glowing chessboard while dodging trap doors that open up in the ground.
Just like with Wii, you'll feel like you've been dropped in a video game and are controlling the character with your movements, but unlike with Wii, you'll be sweating your ass off.
In between three-minute bursts, you'll work out with weights, which allows you to catch your breath and recover... somewhat.
The whole thing lasts about 45 minutes, and afterwards you can relax in the hotel's massive spa.
And fortunately there's nothing virtual about that.