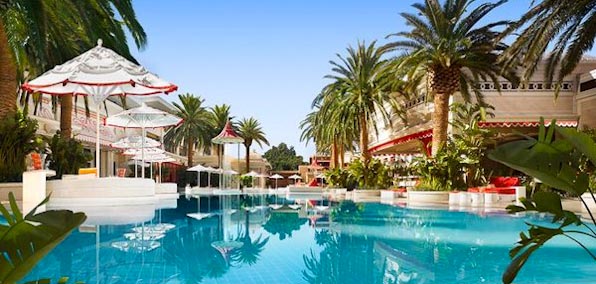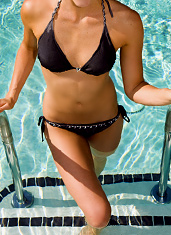 There are weekends, and there are three-day weekends.
This weekend, you may find yourself enjoying a pool party or two. And that's as it should be.
But next weekend, you deserve something more than a pool party. Like a pool party with an adjacent mini mansion...
Introducing
Encore Beach Club
, the Strip's newest pool party with a game-changing take on the cabana, opening Memorial Day weekend.
We know there are a lot of pool parties out there, but this one has a secret weapon: eight private, fully walled poolside bungalows, spread over two floors, as befits a pool partier of your stature. You'll start outside by picking up some barbecue from the grill, wading through the triple-tiered pool and seeking out potential invitees to your party within a party.
Which brings us to the bungalow. You'll want to rent one for the day, thus giving you a home base for your daylong assault on the aquatic merrymaking outside. Also, inside: you'll find your four-walled fortress outfitted with both a shower and a hot tub, along with a fridge and room service courtesy of Switch, the steakhouse next door—in other words, just the essentials.
Then, when the sun sets, you can head across the tanning decks to the connecting Surrender Nightclub—a new Garden of Eden-themed nightclub inside the main tower, though we're told they'll open their doors and spill out into pool territory as the night goes on.
Just like the real Garden of Eden.