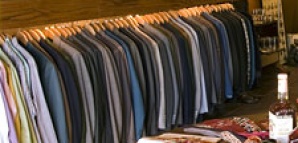 Knowing trends is smart—but living beyond them is smarter.So you might want to stop into Jake Vintage, the recently opened vintage haberdashery in Los Feliz.

One look at nattily dressed proprietor Jonathan H. Kanarek, and you'll know you're in good hands. His shop is filled with classic, high-quality vintage suits and tuxedos made "from the '40s to the JFK administration," as well as casual attire, topcoats and life's essential accessories (you know, like Dorothy Thorpe barware). The guitars are his, but that doesn't mean you can't plug one in, pour some scotch and play around for a bit.

Kanarek won't reveal specifics on how he finds the impeccable goods, but he'll happily expound on just about anything else style-related—he treats Jake as a bespoke suit shop, where his consultations help lead you to the suit, and the style, you're after. Translation: He'll tell you, in the most gentlemanly way possible of course, if your head is too large to pull off the whole mod-rocker thing. If you're especially hesitant about his advice, he won't charge your credit card until after you visit his tailor—because he know she's right.

After the new year, Kanarek also plans to hold seminars on the rules of style, etiquette and...tips on selecting the right lingerie for your gal.

Because you're such a selfless giver.