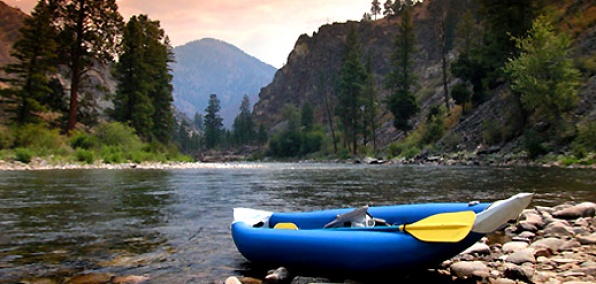 Of all the reasons you would go to Idaho—potatoes, your irrational love of blue-turf football fields, getting lost on the way to Montana—we think there's one you might have overlooked.

Two words: riverside massage...

Welcome to Far and Away Adventures' American Safari, a new tour of the Idahoan wildlands, taking reservations now.

If Ernest Hemingway had preferred white-water rafting (and the occasional back rub) to shooting elephants, he would have vacationed here. You'll tip them off ahead of time about a few things that might interest you—beer, wine, golfing, playing horseshoes, fly-fishing, mountain biking, massages, tennis... but sadly no potato farming.

Your American safari would not be complete, however, without white-water rafting down the Salmon River, fly-fishing in same and camping either under the stars or in a stand-up tent. (Given it includes real beds, steamed towels, a shower and rugs, we're not sure it technically qualifies as a tent.) The whole while, you'll also have access to a personal concierge, who can arrange a quick dip in nearby hot springs, the aforementioned riverside massage or a white-tablecloth dinner alongside the river (possibly featuring the fish you caught earlier).

You never dine in Idaho without a white tablecloth.