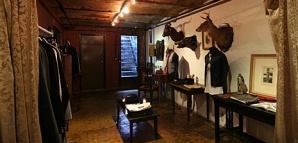 We always knew there was a fashion underground, but it's another thing to know the address...

First, find your way to an unassuming spot near a grass-green hair salon at 119 Ludlow. Then duck into an iron hatch into the sidewalk—watch your head or meet the sidewalk forehead-first—and you'll find there's a lot more to the address than meets the eye.

Welcome to THECAST.

From the pre-war hi-tops to the gilded snakehead scarf pins, this spot is more personal than most of the above-ground pickings. In fact, the designers' actual workspace is tucked behind a forbidding gold curtain, but they'll keep you distracted with the eye-catching merchandise up front, including a 24-karat gold jawbone ashtray, the always-necessary metallic pigskin pants and, for those who have to wake up Monday mornings, some serious old-school suits.

After all, it's not all rock star. The vests and suit jackets are survivors—in both a fashion and a not-falling-apart sense—combining ultra-premium fabrics, slim cuts and old-timey touches like doubled side pockets. Other highlights include bronze-backed vests and cigarette-cut jeans (a little looser than "slim"). And none of it hits stores until January 21st so you'll have more than a month's head start on the Barney's crowd.

And you'll have some time before things get too...ground level.