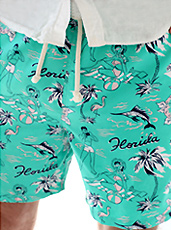 Two great things about living in Miami:
1. We skip spring and proceed directly to summer. (Hello, 90-degree day, a pleasure as always.)
2. Swimwear is always appropriate attire.
Helping you with the latter is
Strong Boalt
and its new line of just-pastel-enough swim trunks, now available online.
If you've been looking for a perfectly engineered pair of swim shorts—you know, the kind that can transition seamlessly from a day at the beach to a cocktail party at the Delano—these handsomely drawstringed trunks should do the trick.
Designed by a Palm Beach gal who logged time at Ralph Lauren before striking out on her own, the shorts are inspired by underwater photographs of marine plants like seaweed and algae (you've always said algae was an overlooked style icon) done up in aquarium colors like coral and turquoise. Our favorites are the two "Greetings from Florida" pairs, which draw additional inspiration from old-timey postcards from the 1950s.
You'll also like the fact that they're cut to a flattering boxer length. After all, the days of swim trunks down to your calves are over...
Especially with quads like yours.