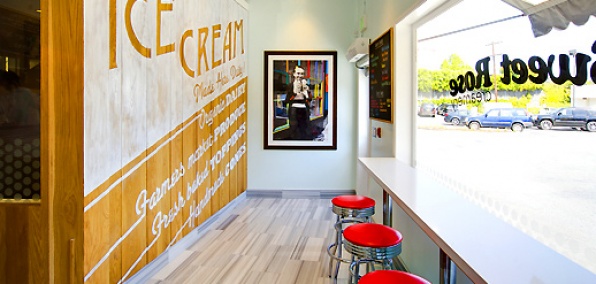 Summer's coming. There are some things you need to get in order.
Ab makeup. Underwater flasks. Unprecedented ice cream parlors.
Here to help with that last one is an old-timey new spot for from-scratch ice cream in cones, sundaes, sandwiches and pies—welcome to
Sweet Rose Creamery
, opening Wednesday at the Brentwood Country Mart.
Think of this as a retro date spot you can rely on—the owners are also behind your Rustic Canyon burgers and
Huckleberry doughnuts
—for those warm LA days when you need to show off your more traditional side. (It's in there somewhere.) Step up to the counter, order a
Salted Caramel Shake
and meet her at the stools with a couple of straws. It's like last night never happened—except the good parts.
You'll also just want to keep it in mind this summer anytime you're... really hot. The ice creams constantly change, and everything's homemade in small batches, from the marshmallows to the cones to the chocolate chips. We especially like the
Strawberry Ice Cream Pie
(ice cream and whipped milk in a graham cracker crust) to help you keep your cool.
Not that you can't handle the heat.