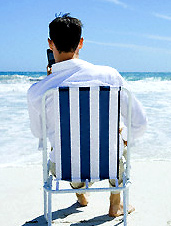 The scene: tropical cabanas, poolside mai tais, pervasive calm.
And while you're enjoying the tropics, the scene at your office: fires in garbage bins, cats swinging from chandeliers and an overriding sense of dread.
In fact, they'll wish you were there. And soon, they'll be calling to let you know.
Here to help:
AwayFind
, a new service that lets you keep the headaches at bay while you're reaping the fruits of your non-labor, online now.
It's as if your out-of-office reply has been taking steroids. When you're about to go on vacation, you'll go online and set it up to handle your email, just like you would ordinarily. But where this thing steps up is that it can screen those emails and find the important ones, based on who's sending it and use of key words and phrases (i.e., "From: Clooney, re: yachting season").
If it's unimportant, it will send your carefully crafted auto-reply ("I really, really care, but... I'm in Jamaica"), or forward the mail to your favorite underling to handle. If it's urgent (say, anything reading "the office is in flames"), you'll get a text sent straight to your phone, relaying the message.
Though we hear bad things about the cell phone coverage in Jamaica...