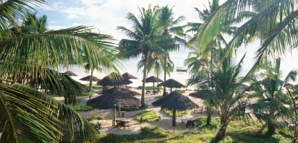 As we slide into December, you're already dreaming of an escape. Glittering seas, arching coconut palms, endless powder-white beaches...

That fantasy? We've found it—on Zanzibar. And, just your luck, there's a new resort in town.

The Fairmont Zanzibar, opened just this week, inaugurates the Indian Ocean's newest paradise. Yes, Zanzibar is a real place—lying twenty-two miles off the coast of Tanzania—and it lays claim to some of the world's best dive sites and most pristine beaches (plus it's the birthplace of Queen frontman Freddie Mercury). And, just south of the equator, it's basking in the generous December sun. (Eighty-six degrees: Nice.)

The Fairmont does its best to improve on natural perfection; 109 suites, villas and thatched cottages wind through the oceanside landscape, looking out onto tropical gardens and the beckoning sea. But the real views are underwater. The resort's private top-of-the-line SUBEX dive center—with one of only three decompression chambers in Africa—plunges you into coral reef territory, where you'll explore centuries-old shipwrecks, or glide past clownfish, turtles and hammerhead sharks. Back at the resort, a Zanzibari feast will get you in touch with the island flavor (Spanish-Arab-African influences meet locally grown spices), or kick back with a shisha on the Arabic daybeds.

So much for winter.