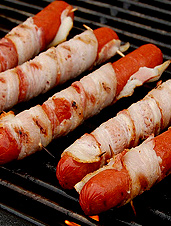 Throughout Hollywood, sacred legends are being completely reimagined at head-spinning speed.
Nightmare on Elm Street
,
Robin Hood,
Heidi Montag...
And now, the most sacred legend of them all—the bacon-wrapped hot dog—has been reborn. Say hello to the
Sonoran Hot Dog
, an upscale and even more debaucherous take on the curbside classic, debuting tomorrow at 25 Degrees.
In the past, your epic nights at the Hollywood clubs would climax exuberantly around 2am, only for you to hear the alluring siren call of a random food cart parked outside, singing sweet melodies of sizzling bacon and irresistible hot dog meat of unknown origin. Now comes the chance to keep things going at a dark, sexy 24-hour hideaway—instead of the curb.
Sneak in, grab an oxblood-leather booth in the corner... and summon the Sonoran. Yes, it's a giant gourmet dog wrapped in bacon, but this is a Mexican-style take on the classic—so there's also an extravagant pile of caramelized onion, tomato, refried beans, Hatch green chili, queso fresco, mustard and garlic aioli. If you've been working on a hangover, this just might stop it cold.
And because tomorrow's debut is timed with Cinco de Mayo, you'll also get specials on tequila and Mexican beer all day long.
Fortunately, it'll still be there on Seis de Mayo.