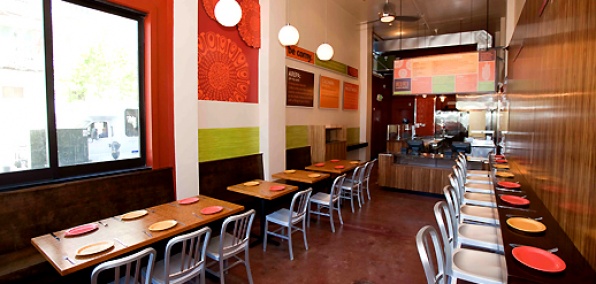 The lure of the Mission burrito is strong-to-very-strong.

But even with such a titan of fast food in our backyard, there comes a time when you need to switch gears... to another Latin fast food. Okay, so it's not a huge leap, but it is delicious...

Introducing Pica Pica Maize Kitchen, a bright, one-stop Venezuelan solution to the burrito standby, here to satisfy your appetite for Latin-inspired street food, opening next Monday at Valencia and 15th.

Located across from Little Star, Pica Pica seems to have been lifted off the streets of Caracas and dropped down on Valencia, with orange tiles, purple pillows and zebrawood walls (though we've yet to lay eyes on an actual zebra tree).

It's the sort of father-and-daughter-run spot you'll stop into for a few arepas (kind of like the Venezuelan tortilla) and beers on a busy night of cocktailing in the Mission. Do as the Venezuelans do and get yours stuffed with the Pabellón (shredded steak, fried plantains, black beans). Or go for the cachapa, which is like sweet, whole-kernel cornbread topped with pulled pork, avocado and tomatoes.

Of course, you'll want to keep your night moving along with a Deschutes or other craft brew, or opt for a pitcher of their sangria—made with passion fruit juice and the house red.

In a few months, just when you're hooked, they're going to tack on two extra hours of Venezuelan greatness and serve until 2am.

Take that, burrito.