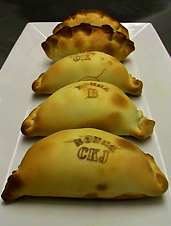 Something new is cooking on Third Street.
It's warm. It's doughy. It's meaty.
It's...
Nonna's Empanadas
, scheduled to open by Friday.
You'll follow the wafting scent of empanadas (which, as you know, are Spanish turnovers filled with all manner of meat, vegetables and cheese) into a simple, modern space with lots of sunlight and a huge counter.
And just like in the 20 or so other countries that offer them, these delicious baked goods are small enough (and cheap enough: $2.95) that you'll probably want to order a few—think
Beef with Onions and Red Peppers
,
Chicken with Jalapeño
and
Onion & Cheese
.
If you've got time and a lunch companion, there are a few bistro tables inside, and they'll soon have tables out front. If not, they'll box you up a dozen empanadas and send you back to be the VIP of your next meeting (or the VIP of your couch).
But it's not just lunch here—they've also got a mean
Ham & Cheese & Eggs
empanada for your morning, along with espresso and croissants.
It's always good to start the day with two ampersands.