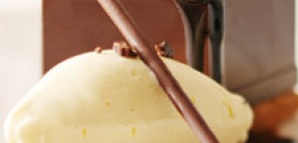 After Thanksgiving gluttony, what you'll need is more dessert.

And if your holiday weekend takes you to Las Vegas, you'll find Payard Patisserie & Bistro—opening Friday with four-course dessert tastings instead of dinner.

Amid a massive renovation of Caesars Palace—if you're going to spend a billion dollars, common wisdom decrees that some should be on pastry—Payard is the first west coast outpost from François Payard, famed pastry chef, chocolatier and arch-nemesis of dentists.

Once inside, you can pick up to-go items from the market or head straight for a seat at the counter—best for pre-dinner hours—to try a croissant, beignet or Broccoli and Coach Farm Goat Cheese Quiche. But in the evening, we recommend simply ducking under an oversized crystal chandelier for a table in the more traditional dining space.

"Dinner" begins with Le Fromage and continues with The Orchard, which includes fruit-based desserts like a Warm Banana Phyllo Tart with White Chocolate and Passion Fruit Sauce. After you take a breather, you'll be ready for the Coffee, Caramel and Nuts course (maybe a Peanut Butter Napoleon with Milk Chocolate and Crispy Rice) and finally Tout Chocolat, with cappers like a Devil's Food Cake with Cardamom Pot de Crème, Chocolate Pudding and Whipped Crème Fraîche.

Since that's dinner, it's up to you to redefine dessert.