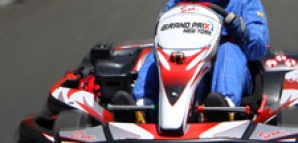 Patience is certainly a virtue, but sometimes you just want to go really fast.

Sure you could get hold of some heavier machinery, but for speed without any sort of commitment, try Grand Prix New York.

Opening December 1st (and now taking reservations), Grand Prix is a go-kart racetrack that leaves out the putt putt and the batting cages (although you are welcome to channel your awkward teenage years).

Just 45 minutes outside the city in Westchester County, think of Grand Prix as an easy way to go get the lead out. The two euro-style 24-foot wide tracks stretch over a quarter mile each, and with elevation changes and blind turns with names like Parabolica and Eau Rouge, you'll have to keep your head on a swivel. And just so you can avoid a fight in the winner's circle, there's an advanced timing and scoring system.

As for the karts themselves, Grand Prix has a brand new fleet of Sodi Karts (championship caliber gasoline-powered karts) that top out at 40 miles per hour.

And while there are leagues, race days and corporate training sessions, the arrive-and-drive (show up, sign up, get in, drive) is the path of least resistance between you and the asphalt.

Just remember to buckle up.