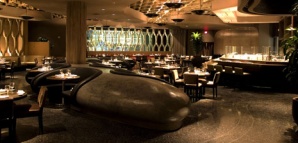 There's a new fish in the Las Vegas culinary pond—and it's big.

Your favorite bluefin-and-paparazzi scene, KOI Restaurant & Lounge, officially opens a new outpost this weekend in the heart of the Strip.

At the entrance, you'll pass the familiar see-no-, hear-no- and speak-no-evil Buddhas before getting comfortable in the first of KOI's two lounges—sitting amid a forest of orchids and Tibetan prayer wheels, you'll feel like you really are in a koi pond (minus the fish, of course).

In the main dining area, filled with some of the largest booths on the Strip (perfect for your cadre of ne'er-do-wells), you'll immediately recognize KOI's sushi and signature Kobe beef dishes. Assuming, that is, you don't get too carried away experimenting with sake splits (mini-bottles for the adventuresome palate) at the bar beforehand.

But beyond all that lies what will become the most sought-after space at KOI—the cozy Fountain Lounge, with just 14 tables offering one of the best views of the Bellagio fountains we've seen. Whether you're entertaining a VIP date or a VIP client, you'll probably be asked how you scored such prime real estate.

Our advice: don't take the bait.