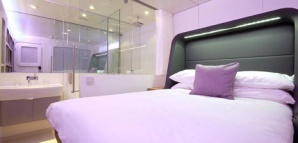 First-class travel is old news; a first-class layover, however, is now in the works.

Opening early next month at Heathrow, following a successful debut at London's Gatwick airport, Yotel will remake your layover experience by giving the much-maligned airport hotel a much-needed upgrade. Located right in the terminal (just steps from duty-free), the futuristic, Japanese-style Yotel gives you all the benefits of an upscale hotel in a perfect little package. Translation? Comfortable bed, private bathroom and ample entertainment, all in your own ten-square-meter capsule, available for the night or just a few stuck-in-the-terminal hours.

Mastermind Simon Woodroffe calls Yotel the iPod of the hotel industry capturing its compact size, clean aesthetic and nifty little features. Each shiny cabin has a button-operated mechanized bed and retractable storage area. From the comfort of your pod, you can order movies to the 23-inch flat-screen, surf sixty channels or exploit the free WiFi or summon curried noodles or a chilled Chardonnay with 24-hour room (sorry, capsule) service.

Good things really do come in small packages.