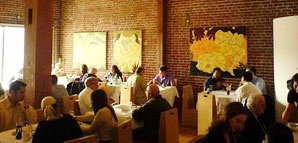 You've never met a sushi-restaurant/art-gallery hybrid you didn't like.

So you'll be happy to revisit R23, downtown's hidden, quirky Japanese favorite that has just conquered its gallery neighbor.

To the uninformed visitor, it would appear nothing has changed in the brick-lined restaurant. Since R23 opened in a well-worn warehouse building nearly two decades ago, the two stern men leading the kitchen haven't budged.(Voicing dissatisfaction with your order is not an option, and the latest owner freely admits that even she is not privy to any of their recipes.) Even those beat-up cardboard chairs designed by Frank Gehry have stood the test of time.

But if you sneak through the hallway at the back, you'll find anew second dining area (pictured, now open for dinner Fridays and Saturdays)that retains the industrial feel of its art-gallery predecessor. Throughout the several nooks of the partitioned area you'll see modern, colorful art by Ichiro. An open lounge space will soon house a rolling sake bar—in the meantime, you can just order from a roaming server or select from the new, international wine list overhauled by the sommeliers at LearnAboutWine, who happen to be neighbors of (and regulars at) R23.

And to think, all R23 wanted was a cup of sugar.