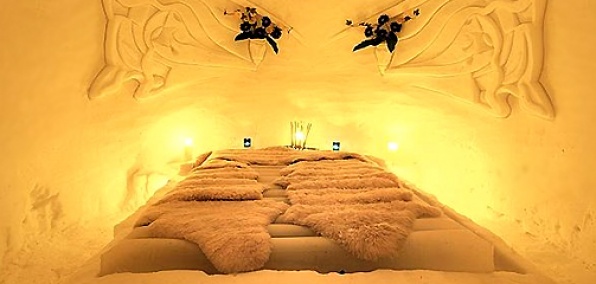 It's a timeless rule of the slopes:
After the skiing comes the après-skiing.
And after the après-skiing comes the bedding down in an igloo.
Okay, so we made that up. But that's the idea behind the
Schneedorf Igloo Village
, an igloo hotel located in the middle of an Austrian skiing resort, open now.
Now, you've seen
your share
of
igloo hotels
, but here's what makes this one interesting: in addition to your classic igloo pad, you'll also have a brick-floored, ice-walled hotel—replete with an ice bar, a sauna and all the other amenities you'd find at fully thawed lodgings—just around the corner.
You can stay in a standard room with up to three polar bears of your choosing, and indulge in a cheese fondue dinner, in case this wasn't Austrian enough for you. But we recommend the Candlelight Night—a, yes, candlelit ice cove with gratis champagne, breakfast at the nearby restaurant (where you'll enjoy panoramic views of the Alps you're about to conquer later that day) and, most romantically, an included plate of cold cuts.
The whole thing's conveniently located next to an alpine glacier, where you can ski or toboggan down the nearly 9,000-foot slopes. (When those muscles start to ache—or even if they don't—you can retreat to the hotel's sauna, the highest in Europe.) And if your accommodations aren't precisely to your specifications, you'll want to visit the igloo construction workshop, where you'll learn how to build your very own ice fortress.
Ice bar building is part of the advanced class.