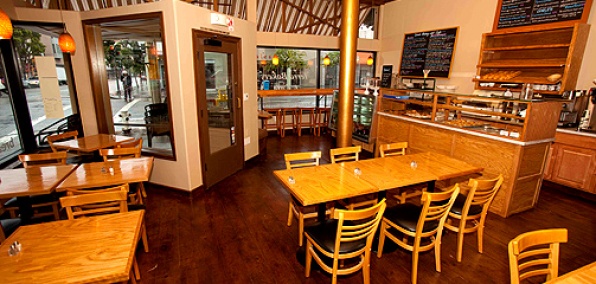 A good bagel is a rare, mythical foodstuff in this town. One that's nearly impossible to track down.

And we only say "nearly" knowing what we're about to tell you...

Introducing Terra Bakery and Café, your new all-day bistro and East Coast bagel specialists, now open in Hayes Valley.

Situated on the corner of Hayes and Gough, this is your welcome morning stop for as close to a hand-rolled, New York-style bagel as you can get on these shores—followed by a few cold ones brewed here on the Left Coast (after all, the hair of the dog is a universal cure).

If you went to Roland's in the Lower Haight, you'll know our good East Coast baker has a few bagel-making secrets up his sleeve that don't involve importing water from New York, like high-end malt and dough that's aged for two days.

But all you really need to know is the bagels are boiled and then baked for that crisp and chewy likeness that transports you to the Upper East Side. Think: classics from sesame to garlic salt, smeared with cream cheese (old-school Philly doctored with heavy cream and mascarpone) or topped with a fried egg.

Since Terra's open all day, you could dive into the corner banquette or sit outside with a bottle of Trumer and move on to a fried-chicken sandwich or wine-braised short ribs.

We won't argue against the bagel/short rib combo.