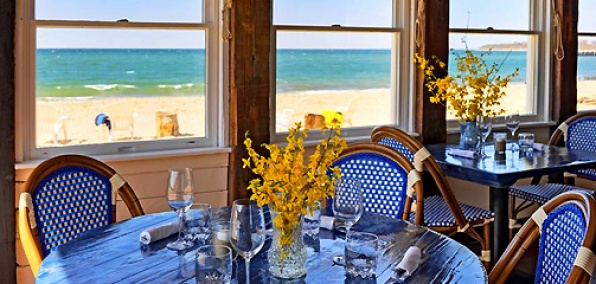 Today, summer may seem a distant and remote dream—a hazy memory of sun-kissed shoulders and bikinis drying on the back fence.
We're going to clear up that haze.
This weekend, in fact, marks the first Hamptons opening of the season:
Navy Beach
launches its contribution to the coming craze of seaside revelry in Montauk.
It's here that you'll be lounging on daybeds atop the sand, partaking of champagne buckets filled with ice and beer, passing lazy afternoons and being served large silver platters of fish tacos, lobster sliders and (why not) foot-long Nathan's hot dogs with a rotating cast of condiments.
The critical point here is that the beach faces west, meaning you can enjoy the sunset the way they do in Cali—over the water. And be aware, this isn't the
Surf Lodge
—there will be no khaki-clad reggae parties. You can get into that kind of thing afterwards. This is where you'll turn your attention for a (slightly) more sophisticated start to your evening, involving pre-drinks and dinner, more reminiscent of alfresco cocktails in Nantucket.
Which is appropriate, considering that in addition to the sweetly tan-lined summer company you typically keep, you'll be joined at Navy Beach by a host of classic bathing beauties. We're talking Marilyn Monroe and Grace Kelly, among others, framed on the walls and smiling as if they approve of your decision to go with SPF 30. Probably best to keep those classy ladies out of the sun.
You, on the other hand...