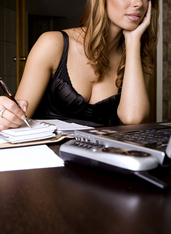 Ah, the office romance.
Forbidden. Alluring. Potentially ruinous. And yet, still irresistible.
Well, we've found a way forward that may just save you a corporate headache here and there. A way where you can go to work in the morning, and explore the company pier's fishing opportunities, without consequence. Mostly because it's someone else's pier...
Introducing
SwapYourShop
, a first-of-its-kind service that sets you up in the anything-goes environment of somebody else's office, anywhere in the world, in beta now.
Here's how it works: say you plan to spend a few days halfway across the country, but you still need to get some work done while you're traveling. (Such is the life of an international diplomat and/or accountant.)
Sign up, and you'll find an array of available offices where you can set up camp for a week or two: current listings include spots in NYC and LA; Moscow; Lyon, France; and, of course, Rome. (Also: Salt Lake City, Utah. But let's focus on Rome.)
And then, at the agreed-upon time and place, you'll show up to someone's office as if it were your own—you can show up at 11, leave at 2 and take as long a lunch break in between as you want, all without worrying about Old Man Johnson looking over your shoulder.
And, of course, when your incurable joie de vivre catches your new boss's (or secretary's) attention, you'll be free to embark on the sort of carefree tryst that wouldn't fly around your usual workday haunt.
Though, in Rome, this kind of thing is commonplace.