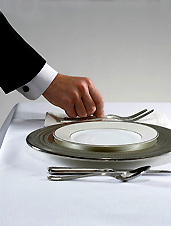 In restaurants, there are good tables and bad tables.
Tables where you'll be seen, and tables for hiding away.
And while each type has its moment, there is one universal rule of seating.
Which also brings us to dating rule #1,003: anytime the chef lets you eat dinner in the kitchen, you kindly oblige.
Introducing the
Private Chef's Dinner at Le Club
—an eight-course dinner for two in a white-tableclothed nook nestled in the middle of Le Club's snug kitchen—taking reservations now.
Now, on the surface, a table right smack in a working kitchen, arm's length from the line, would seem like the least romantic spot, but that's exactly how you want to play it. And once you lead her to the very top of Nob Hill, seat her at the candlelit table and have a few oysters and some bubbly, you'll start to get the picture.
Your master of ceremonies is Chef Amy Glaze (last at New York's Le Bernardin), who'll help you customize your dinner—whether you want it to lean heavily towards fish or choose to incorporate her short ribs, which seem to be garnering a healthy cult following.
On the night of, whisk your date over to Le Club's bar for a pre-dinner cocktail, then let Amy lead you to your table in her pots-and-pans-laden lair, which you'll call home for the night.
Don't ask about dating rule #1,004.