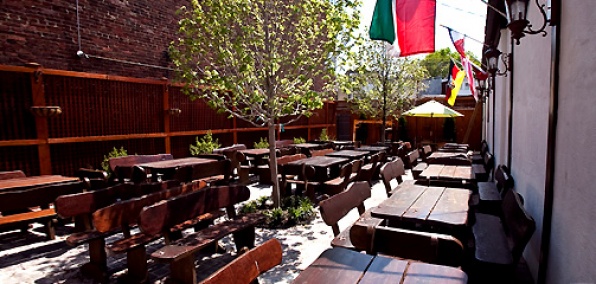 You've almost made it.

Just around the corner, great weather awaits. Which means beer, sun... and more beer.

And today we bring news of a magical place. One with sun. Beer. Schnitzel. And lederhosen. But let's focus on the first three...

Presenting Biergarten Haus, booking large parties now, and honoring that most noble of German traditions—drinking copious amounts of lager in the great outdoors.

This is a little slice of Munich plopped down in the Atlas District, and if you're expecting exposed beams, animal heads and shelves of steins, well, you're exactly right.

You'll start by leading your merry band of carousers through the dark, wood-paneled first floor. (Be sure to give a quick nod to the big-horned sheep over the bar as you pass.)

But your real business is out back, in the enormous cobblestoned courtyard—just follow the strains of accordion-powered polka. (No, really.) There, dozens of hardwood tables and benches will seat nearly 200 beer guzzlers and probably a few refugees from the German embassy. (Go ahead, let them sing backup.) Speaking of which, you'll have your pick of a dozen German drafts by the liter or half-liter stein and another couple dozen by the bottle.

Once sufficiently marinated in pilsner, you'll want to request a plate of bratwurst, sauerbraten or Wiener schnitzel.

It's going to be your Summer of Liebe.