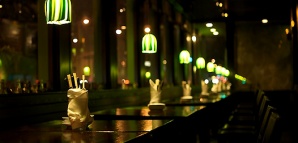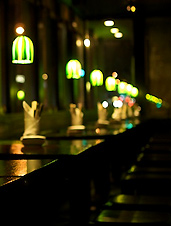 Sometimes, it's hard to stop at one.
So when it comes to squeezing two 99-cent oyster happy hours into one night, we say: go for it, and go for it with gusto.
Which takes us to
Art's Tapas + Sushi Lounge
, a newly transformed destination for oysters, sushi and some heavily spiked cocktails, now open in the Marina.
If you've heard rumblings about this place, you might know that before they were ready to reveal themselves to the world, they were methodically hammering nails, working out kinks in the menu and devising a wild creation: one of the city's best oyster/sushi happy hours, followed shortly by an even more powerful late-night oyster happy hour.
Drop by during the 5:30 to 7pm time slot, and start at one of the big leather stools at the bar. From there you'll hold court, ordering up oysters by the dozen, spicy cocktails (cooked up by a Foreign Cinema vet) on the double and $5 sushi rolls by the boat.
After you've run your course of sake-drenched
Red Envy
cocktails or the vodka-and-jalapeño
Serpentine Fire
, take the two-hour interim between happy hours to regroup and try ex-Blowfish chef Taka's Japanese-Spanish tapas, like squid-ink
Paella Negra
made with sushi rice, or
Yellowtail Crudo
.
Which brings us back to the oysters.